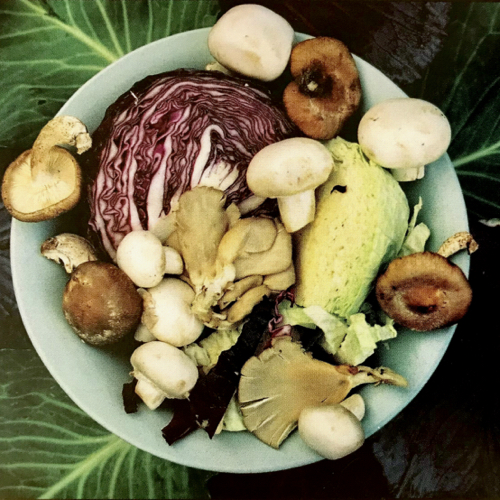 CABBAGE AND MUSHROOMS OVER PASTA
INGREDIENTS:
4 ounces fettuccine
1 tablespoon extra-virgin olive oil
A few grindings of black pepper
1 tablespoon extra-virgin olive oil
1 large onion, peeled and thinly sliced
3 ounces any mushrooms, sliced (wild foraged have the best flavor)
1 medium carrot, peeled and cut into ⅛-inch strips
¼ teaspoon of dry thyme, or ¾ teaspoon fresh thyme leaves
3 leaves Napa cabbage, thinly sliced, ot 1 cup shredded green cabbage
Salt and freshly ground black pepper, to taste
2 tablespoons grated Asiago Fresco, Cheddar, or Provolone, plus more for sprinkling on top.
INSTRUCTIONS:
1. Cook pasta in salted boiling water until al dente, following the package directions. 
Drain, toss with olive oil and black pepper, and set aside. Reserve ¼ cup cooking pasta water.
2. Saute sliced onions with a pinch of salt in the olive oil until caramelized, about 10 minutes.
3. Add sliced mushrooms and carrots to the skillet. Season with thyme, salt and pepper. Saute until softened, about 4-5 minutes, then add the cabbage. Season with another pinch of salt and cook until everything is soft. Move the vegetables to a plate.
4. Heat the cooked pasta in the skillet using the reserved pasta water.
5. Place the cooked vegetables on top of the pasta, sprinkle with the grated cheese and toss everything together to mix well.
Serve in a bowl, sprinkled with additional cheese.
Serves 2 to 3